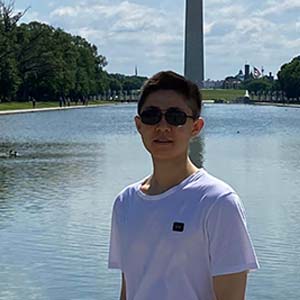 "Know you interests, do your research and follow your heart. Don't be afraid to try new things and welcome to reach out for support or advice."
---
Contact Information: zhihuaz@seas.upenn.edu
Degree(s) M.S.E. in Data Science, University of Pennsylvania

Hometown: Xi'an, China
Which field of Data Science are you interested in?
Deep Learning, Recommender System

What drew you to study Data Science at Penn?
The flexible curriculum and abundant opportunities and resources to explore my interests.
What are some classes that you have particularly enjoyed and why?
ESE546, course content is solid and professor is smart and nice, you will gain some fundamental understanding about how/why deep neural nets work. CIS680, it gives a high-level overview of CV history and recent development, and also a lot of opportunities for practices. CIS700, very interesting if you like interactive fiction and NLP.

What internships have you had? If you know your post graduation plans, please include here.
Pinterest MLE during 2022 summer. Previous internships include MLE at TikTok and NetEase, all focusing on recommender system.

What advice do you have for new students?
Know you interests, do your research and follow your heart. Don't be afraid to try new things and welcome to reach out for support or advice.

What classes have you taken?
ESE546, CIS680, CIS700(22 spring), ESE674

Share a little bit about yourself.
In my spare time, I like working out (and all kinds of sports), reading, traveling, music and exploring new things.