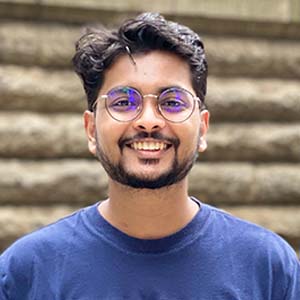 "I loved the course structure and the freedom it offers in terms of the curriculum. It let's students at Penn to pave their own path in their Data Science journey."
---
Contact Information: vjyvtkr@seas.upenn.edu
Degree(s) M.S.E. in Data Science, University of Pennsylvania

Hometown: Bangalore, India / Philadelphia, USA
Which field of Data Science are you interested in?
Machine Learning and AI

What drew you to study Data Science at Penn?
I loved the course structure and the freedom it offers in terms of the curriculum. It let's students at Penn to pave their own path in their Data Science journey. With only a few basic foundational/core courses, Penn offers a huge bandwidth of electives which count towards the degree. This, at the end, made the difference for me in choosing Penn over all the other universities.
What are some classes that you have particularly enjoyed and why?
CIS520 – In Spring 2022, I loved CIS520. Although there was a Math involved in the course, it gave me the required foundations in ML. Prof. Jacob Gardner has his amazing way of teaching concepts and he also made the course more enjoyable. Contrary to many notions that courses are not enough to secure a job/internship, CIS520 was one of catalyst that helped me in my Internship hunt too. Students can also explore CIS520 in Fall with Prof. Lyle, with whom it is more involved in terms of rich content and very fast paced.
CIS545 – Though a basic ML breadth course, this course was perfect for my transition from Industry to back in academia. Prof. Zachary Ives is one of the best Instructors at Penn and in my opinion, if you are not coming from an ML/ Data Science background, this course is the best one to get started. It is probably one of THE most structured courses I have taken at Penn and I enjoyed attending Prof. Ives' lectures.
What internships have you had? If you know your post graduation plans, please include here.
I will be Interning at Amazon as an Applied Scientist where I will be dwelling in research across NLP & CV. After my graduation I plan to take up an active Applied Research role which deals with solving cutting-edge problems in the Industry.

What advice do you have for new students?
Try not to stress too much about Penn before coming to Penn. Just try to introspect what you want from your Penn experience. It is very easy to get lost after coming here due to the sheer number of things happening around you.

What classes have you taken?
NLP (CIS530), ML and DL (CIS520, CIS522), Big Data (CIS545), Statistics and Forecasting (ESE542, STAT535)

Share a little bit about yourself.
My academic interest areas are in the intersection of Data Science & ML & AI. I love to travel and have been to 6 countries till now. My other huge interests are Football (I have been to the FIFA World Cup 2020) and Anime (I am guessing there would be quite some One Piece and AOT fans in the house). Feel free to connect with me on LinkedIn.