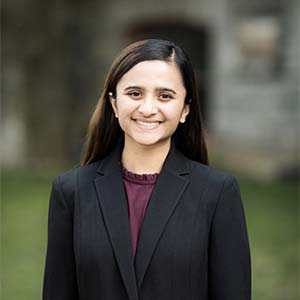 "Take this time to step out of your comfort zone, take advantage of opportunities that interest you, and get to know your peers. This is an exciting time where you'll not only learn a lot academically, but will also learn a lot about yourself and your passion. "
---
Contact Information: sukanyaj@upenn.edu
Degree(s) M.S.E. in Data Science, University of Pennsylvania

Hometown: San Jose, CA
Which field of Data Science are you interested in?
I am interested in Data Analytics, Machine Learning, and Natural Language Processing.

What drew you to study Data Science at Penn?
The distinguished faculty, the high quality of the data science curriculum, and the myriad of research opportunities drew me to Penn. Furthermore, I was impressed by the fact that we can choose interdisciplinary electives across various departments at Penn and study data science through different lenses.
What are some classes that you have particularly enjoyed and why?
CIS 545 and CIS 520 were two classes where I learned a lot about data science and machine learning; the well-structured homework and course syllabus, as well as the professors' enthusiasm, made these classes interesting. These courses were also quite helpful while prepping for interviews!
What internships have you had? If you know your post graduation plans, please include here.
I will be working as a Data Engineer Intern at Coursera in the summer of 2022. I have also held data science research positions in both CIS and Wharton departments during my time at Penn. My research interests lie in the intersection of psychology and tech, as well as ed-tech and current events. Prior to studying at Penn, I interned at Mercer as a Health Consulting Actuarial Analyst.
What advice do you have for new students?
Take this time to step out of your comfort zone, take advantage of opportunities that interest you, and get to know your peers. This is an exciting time where you'll not only learn a lot academically, but will also learn a lot about yourself and your passion. For some of you, this may be the last time you'll ever be in a college environment — so be sure to enjoy the campus life, participate in club events, and meet new people!
What classes have you taken?
I have taken CIS 545, CIS 550, CIS 530, CIS 522, CIS 520, and BE 521.

Share a little bit about yourself.
I am super outgoing and adventurous, and I love to explore new places in my free time. I am also a huge dog-lover and I have a mini golden-doodle who I love to spend quality time with.