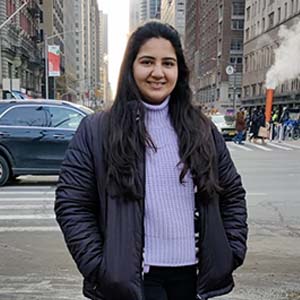 "Participate in the various activities that Penn has to offer and enjoy your time to the fullest."
---
Contact Information: dhruvim@seas.upenn.edu
Degree(s) M.S.E. in Data Science & Robotics, University of Pennsylvania

Hometown: Pune, India

Which field of Data Science  are you interested in? 
I'm interested in Data Engineering, Data Analytics, and Natural Language Processing
What drew you to study Data Science at Penn?
The flexible curriculum drew me to the Data Science program at Penn. Students have the freedom to choose subjects from various departments which provides an opportunity to learn about the applications of Data Science in different fields.
What are some classes that you have particularly enjoyed and why?
I enjoyed studying Big Data Analytics (CIS 545). I got to learn the techniques used for processing enormous amounts of data and also apply them to a real-world scenario through the final project. Another class that I enjoyed was Computational Linguistics (CIS 530) as I was interested in gaining in-depth knowledge of Natural Language Processing.

What internships have you had? If you know your post graduation plans, please include here.
I am working as a Data Science Intern at Vanguard this Summer 2022. Prior to joining the Masters program, I worked as a Junior Data Scientist at HT Media Labs in India for a year.
What advice do you have for new students?
Learn to manage your time as the workload will be overwhelming in the beginning. Participate in the various activities that Penn has to offer and enjoy your time to the fullest. Approach others for support and to get advice about the courses, internship search, etc.
What classes have you taken?
Big Data Analytics (CIS 545), Computational Linguistics (CIS 530), Stat for Data Science (ESE 542), Machine Learning (CIS 520), Deep Learning (CIS 522), Forecasting Methods Management (STAT 535)

Share a little bit about yourself.
I am an avid reader and I also love to travel and try out different types of cuisines.