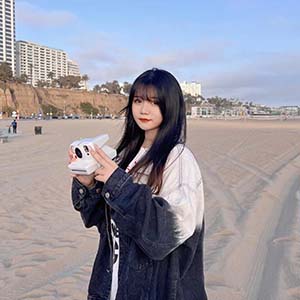 "I chose PENN for its flexible curriculum design so there is a chance to experience various fields of Data Science."
---
Contact Information: zclin@seas.upenn.edu
Degree(s) M.S.E. in Data Science, University of Pennsylvania

Hometown: Suzhou, China

Which field of Data Science are you interested in?
Machine Learning and Natural Language Processing

What drew you to study Data Science at Penn?
I chose PENN for its flexible curriculum design so there is a chance to experience various fields of Data Science.
What are some classes that you have particularly enjoyed and why?
I have taken CIS519, CIS545, CIS550, CIT596, ESE542, and STATS535. Of the many interesting classes, I particularly enjoyed CIS545 because I found it to be a comprehensive overview of many different aspects the data science field explores.
What internships have you had? If you know your post graduation plans, please include here.
I worked as a data analyst intern at IBM previously and also took teaching & research positions as an undergrad in UCSD.
What advice do you have for new students?
Enjoy your school life back on campus after 3 years of zoom university!
Share a little bit about yourself.
I am a cat person and I have two fluffy pets living with me on campus right now. One is a domestic short-haired and the other is a Scottish fold.

What classes have you taken?
Share a little bit about yourself.
I graduated with a BS in Data Science and BA in Economics from UCSD. Coming from California, I really do enjoy meeting new people here and bonding with peers. Through networking, I learned a great deal over this first year back to campus from the quarantine days. I love pets and I have two cats living with me on campus. Academic wise, I am rather interested in business data science, where my curriculum is built from statistic and marketing courses along with applied machine learning.