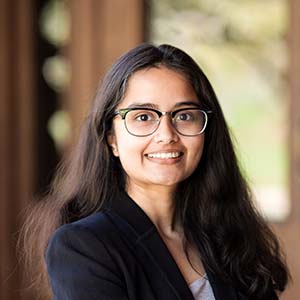 "Time in grad school passes by very quickly! Reverse-engineer what you think you want to end up doing, and try to build very strong fundamentals."
---
Contact Information: aasthas@seas.upenn.edu
Degree(s) M.S.E. in Data Science, University of Pennsylvania

Hometown: Mumbai, India

What field of Data Science are you interested in?
Statistics, Machine Learning, Data Analytics
What drew you to study Data Science at PennStatistics, Machine Learning, Data Analytics?
The curriculum at Penn is extremely flexible. I had explored data science in my undergrad, and I wanted to fill in gaps in my knowledge to opt for the roles that interest me, and I found Penn's curriculum to be a lot more flexible with a lot more options than other programs. It allows students to make their curriculum as statistical/computational or wide/deep as they want to.
What are some classes that you have particularly enjoyed and why?
I've enjoyed the Intro to Optimization (ESE504) and Machine Learning (CIS520) classes most. The former was a rigorous course that gave me insight into a very important field that I hadn't been able to explore before but is now increasingly data-driven. The latter was important in strengthening my ML fundamentals and was both in-depth as well as wide.
What internships have you had? If you know your post graduation plans, please include here.
In my undergrad, I've interned and applied data science at a boutique consulting firm, a financial services firm, and conducted ML research at Aalto University, Finland. This summer, I'll be a Data Science Intern at McKinsey & Company (QuantumBlack).
What advice do you have for new students?
Time in grad school passes by very quickly! Reverse-engineer what you think you want to end up doing, and try to build very strong fundamentals. Many of my interviews focused on depth instead of breadth.

What classes have you taken?
Share a little bit about yourself.
Outside of stats and data science, I enjoy painting and art, debates, reading non-fiction, and trying different cuisines