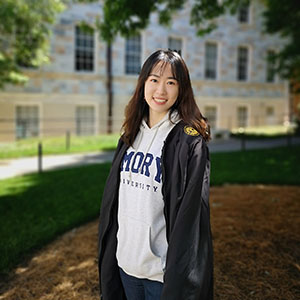 "I love seeing how we could use models to find patterns among a set of messy data."
---
Contact Information: zhiqifu@seas.upenn.edu
WeChat: Lydia_fxSHINee
Degree(s) M.S.E. in Data Science, University of Pennsylvania

Hometown: Beijing, China
What field of Data Science are your interested in?
Data Analytics, Machine Learning
What drew you to study Data Science at Penn?
I love seeing how we could use models to find patterns among a set of messy data.
What are some classes that you have particularly enjoyed and why?
I really enjoyed CIS545 because I learned many knowledges about data and also about python during this class.
What internships have you had? If you know your post graduation plans, please include here.
I am working as a data scientist intern at eBay now.
What advice do you have for new students?
Plan ahead and learn more from other students.
What classes have you taken?
CIS 519 (Applied ML), CIS 550 (Databases), CIS 545 (Big Data Analytics), CIS 522(Deep Learning for DS), CIS530 (Computational Linguistic), STAT 711 (Forecasting Methods for Mgmt), STAT 571 (Modern Data Mining)
Share a little bit about yourself.
I am a huge fan of Kpop and love listening to music. I also enjoy watching sports games.