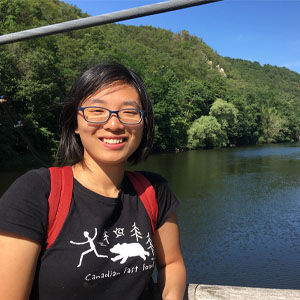 "Sampling data, analyzing and visualizing data was a big part of my undergraduate experience, and I fully enjoyed it. I decided to continue doing what interests me, but focus on developing my technical skills, and broadening the application of my skill set."
---
Advising Hours: Thursdays 10-11 am EST
Degree(s) M.S.E. in Data Science, University of Pennsylvania

Hometown: Beijing, China

What was your background before joining the Data Science (DATS) Program?
My Bachelor degree was in Environmental Geoscience. I was especially interested in marine geobiochemistry.
What drew you to study Data Science at Penn?
Sampling data, analyzing and visualizing data was a big part of my undergraduate experience, and I fully enjoyed it. Although geoscience is an incredibly interesting discipline (that I always love), the career scope it leads to is limited. I decided to continue doing what interests me, but focus on developing my technical skills, and broadening the application of my skill set.
What are some classes that you have particularly enjoyed and why?
CIS555 – Internet and Web System: It was my first experience in building distributed systems from end to end. I learned an incredible amount of practice skills and gained confidence in the design and implementation of larger complicated systems.
What internships have you had? If you know your post graduation plans, please include here.
I was working as a Course Development Assistant for CIS550 – Databases and Information System (OMCIT) over the summer, as well as a full-stack developer involved in a project building a question bank online platform.
What advice do you have for new students?
It is a good idea to think about course planning in advance. Sometimes a course with a good-quality project can be especially beneficial.