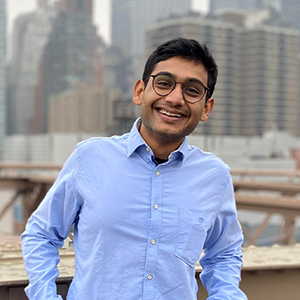 "Penn has a huge community of alumni who are very eager to help you and often times getting started is the hardest part."
---
Contact Information: shriv9@seas.upenn.edu

Degree(s) M.S.E. in Data Science, University of Pennsylvania

Hometown: New Delhi, India
What field of Data Science are your interested in?
Natural Language Processing, Machine Learning and Deep Learning
What drew you to study Data Science at Penn?
The flexible curriculum, amazing faculty and a huge network of supportive Data Science alums drew me to UPenn. The DATS curriculum even provides options to select courses from an interdisciplinary bucket, which gives us the opportunity to explore other interests.
What are some classes that you have particularly enjoyed and why?
I have taken CIS520 (Machine Learning), CIS522 (Deep Learning), CIS545(Big Data Analytics), ESE542 (Statistics) and CIS550 (Databases). I particularly enjoyed CIS520 due to the mathematical focus while learning Machine Learning algorithms and CIS545 as the course covered the breadth of the field with very interesting and well designed assignments.
What internships have you had? If you know your post graduation plans, please include here.
In the Summer of 2022 I will be working as an Applied Scientist Intern at Amazon as a part of the Search Science and AI team.
What advice do you have for new students?
If any goal appears too big and insurmountable, reach out to seniors who have already achieved it and get their advice on how to take the first step. Penn has a huge community of alumni who are very eager to help you and often times getting started is the hardest part.
What classes have you taken?
Share a little bit about yourself.
I'm a second year MSE DATS student and I have completed courses in Big Data Analytics, Databases, Statistics, Machine Learning and Deep Learning. My interests lie in leveraging the power of the Machine Learning and data – driven solutions to solve real life problems, which brought me to Penn to study Data Science. I also like participating in hackathons and coding competitions to continuously hone my skills. In the long term, I want to build a career in the AI and ML industry. When I'm not working, I like to play badminton, video games and listen to some tunes.