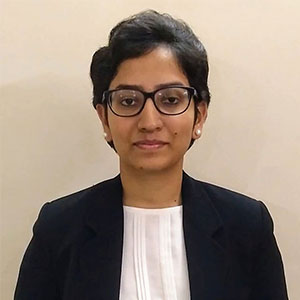 "The most interesting thing about data science is that it is extremely versatile. It can add value to any field it is implemented in – value in the form of information or monetary form, thus making the data scientists an invaluable asset to certain companies."
---
Advising Hours: Tuesdays and Thursdays from 11 AM – 12 PM EST
Degree(s) M.S.E. in Data Science, University of Pennsylvania

Hometown: Bangalore, India

What was your background before joining the Data Science (DATS) Program?
I received a bachelor's degree in Electronics and Communication Engineering from Vellore Institute of Technology.
What drew you to study Data Science at Penn?
When huge amounts of data are analyzed, it becomes an influential parameter for deriving at logical conclusions. Data science is that emerging discipline, which offers a plethora of opportunities to computer and technology enthusiasts who wish to integrate their theoretical and technical abilities with management acumen to contribute to data-driven decision making. The most interesting thing about data science is that it is extremely versatile. It can add value to any field it is implemented in – value in the form of information or monetary form, thus making the data scientists an invaluable asset to certain companies. UPenn seemed to be the perfect University for my transition from Electronics to Data Science. The rigorous, practical coursework at UPenn was exactly what I needed to gain an in-depth understanding of the concepts that make a data science candidate a successful one.
What are some classes that you have particularly enjoyed and why?
I thoroughly enjoyed studying Big Data Analytics (CIS545) and Natural Language Processing (CIS530). The concepts were taught really well and most importantly, the assignments were really challenging and fun to work on. They instilled creative and analytical skills in addition to the technical skills that were required.
What internships have you had? If you know your post graduation plans, please include here.
The first internship that introduced me to Data Science was my academic internship at National University of Singapore. Later, I interned at Schneider Electric for 6 months in the field of Data Science working on HR Attrition and Image Classification.
What advice do you have for new students?
Shifting to Data Science was one of my best decisions. It may be a little intimidating to study alongside with the students who already have a background in computer science (if you are from a different major), but there are numerous resources (Office Hours, Teaching Assistants, etc) on campus that will help you fit in irrespective of your background. All you need to do is ask for them and utilize them. Be regular to classes and start assignments/projects early to have a seamless master's experience! But do make sure you participate in social events on campus and be a part of clubs/chapters. Talk to your seniors/mentors/professors whenever you need any sort of clarification or support.