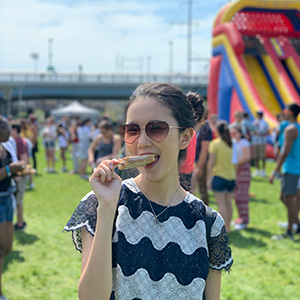 "Don't undermine the value of networking. I personally learned lots by just conversing with others. Penn is a very inclusive community, and we are all here to help."
---
Contact Information:
Degree(s) B.S in Economics (Statistics), M.S.E. in Data Science, University of Pennsylvania

Hometown: Philly (born in China, but have been here for 9 years)

Which field of Data Science are you interested in?
Statistics and Machine Learning
What drew you to study Data Science at Penn?
Everyone's academic experience at Penn is different despite being in the same program. Penn DS offers us enough flexibility to customize our curriculum to our own interests. As I'm interested in the more business side of data science, my curriculum is composed more of business Stat courses and applied DS.
What are some classes that you have particularly enjoyed and why?
My favorite class is MKTG 476/776 (anyone who has conversed with me would probably flag me as a strong advocate for the course). The course changes how we fundamentally treat data as a source of information. Rather than fitting a model to see 'what works', the course takes on a 'story-first' approach by deriving models intuitively from stories we want to tell about customers. Highly recommend for anyone who's interested in probability models / applying DS to real data.
What internships have you had? If you know your post graduation plans, please include here.
I worked as a DS intern at Shopify on their Marketing DS team during the summer of 2020, and at Facebook on their Finance DS team during the summer of 2021. My short-term career goal after graduation is to work as a data scientist in silicon valley.
What advice do you have for new students?
Welcome! Reach out to me to chat about DS interview process (I interviewed at a LOT of places), sub-mat at Penn, or just anything fun in general. Would love to set up lunch-meets with people on campus.  Don't undermine the value of networking. I personally learned lots by just conversing with others. Penn is a very inclusive community, and we are all here to help. 

Share a little bit about yourself.
Love probability models. In my free time I enjoy listening/singing/dancing Kpop, watching crime documentaries, taking random walks in the city.