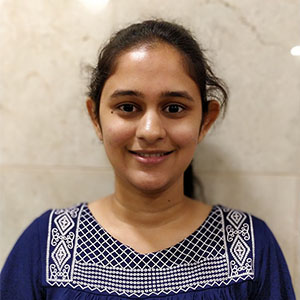 "The flexible curriculum coupled with a variety of electives made it to the top my list for prospective colleges. The program also offers a chance to collaborate and take courses from different schools at UPenn."
---
Advising Hours:
Thursday 4-5pm EST
Degree(s) M.S.E. in Data Science, University of Pennsylvania

Hometown: Kakinada, India

What was your background before joining the Data Science (DATS) Program?
I worked as a software engineer at Samsung Research Institute, Delhi. My undergraduate degree was in Computer Science and Engineering.
What drew you to study Data Science at Penn?
When I was looking for programs with machine learning and Data Science specializations, I came across the UPenn DATS program. The flexible curriculum coupled with a variety of electives made it to the top my list for prospective colleges. The program also offers a chance to collaborate and take courses from different schools at UPenn.
What are some classes that you have particularly enjoyed and why?
I really enjoyed taking the class, Interactive fiction and text generation. It was one the CIS special topics. It was about using Natural Language Processing to create interactive text applications. As a part of the class project, we developed an interactive text based game where the player can solve goal-oriented puzzles. Other classes that I found interesting are CIS 520(Machine Learning) and CIS 522(Deep Learning for Data Science).

What internships have you had? If you know your post graduation plans, please include here.
In the summer of 2020, I worked as Research Assistant in the NLP group.
What advice do you have for new students?
Congratulations for getting into UPenn! Try experimenting and take courses that interest you. And most importantly have fun!