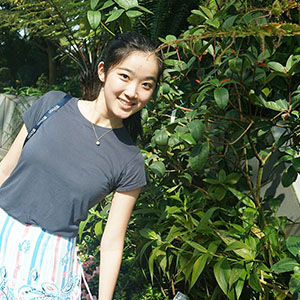 "Penn gives you a lot of opportunities to explore, and the major Data Science does not limit you to a job with the title "Data Science". Data is generated everywhere; the program gives you the tool to pursue your interest."
---
Advising Hours:
Fri 11-12pm EDT
Degree(s) M.S.E. in Data Science, University of Pennsylvania
BSE NETS, University of Pennsylvania

Hometown: Shenzhen, China

What was your background before joining the Data Science (DATS) Program?
I am currently a senior studying Networked and Social Systems Engineering.
What drew you to study Data Science at Penn?
A lot of the courses in DATS connect with what I have studied for my undergrad degree. I like the feeling of spotting something interesting from a huge amount of data, and I definitely want to be better at it.
What are some classes that you have particularly enjoyed and why?
CIS 530. I used to think about Linguistics as the subject that is the furthest away from Computer Science. The course changed my mind. It showed me how various algorithms are able to analyze texts and generate useful information.

What internships have you had? If you know your post graduation plans, please include here.
I did an internship for a proprietary trading firm from Chicago this summer. Last year, I did research at Penn that is more related to computational biology. Two years ago, I did market research for a company from Tel Aviv. After graduation, I will be working for the trading firm as a trader.
What advice do you have for new students?
It is of course great if you come into the program with a clear goal of what you want to do, such as software engineering or data science. However, if you are not sure what you like, or you have a lot of interests, do not ever limit yourself. Penn gives you a lot of opportunities to explore, and the major Data Science does not limit you to a job with the title "Data Science". Data is generated everywhere; the program gives you the tool to pursue your interest.