The 10 Course Units in the degree are divided into four categories.
Foundations (2 Course Units)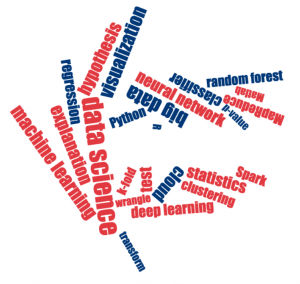 Probability (ENM 503, offered in Fall, or STAT 510, offered in Fall/Spring, or MATH 546, offered in Fall)
Programming Languages and Techniques (CIT 590, offered in Fall)
Students who have taken courses in these or equivalent areas may petition to have Foundations course requirements waived.  The CU(s) will be reallocated to the Depth Area Electives.
Core Requirements (3 CU)
Statistics (STAT 512, offered in Spring)

Big data analytics (CIS 545, offered in Spring)
Thesis / Practicum (2 Course Units)
One year of credits culminating in an application practicum (see below) or Master's thesis
Or any two-course sequence approved by the Master's Program Faculty Director
Technical and Depth Area Electives (3 Course Units)
Students may take one course in an approved Technical Elective and two additional courses from a Depth Area, in consultation with the Program Director.
Potential depth areas for the Master's degree include:
Computer and information science
Electrical and systems engineering
Network and social science
Digital humanities
Biomedicine
Practicum Projects
Through a matching process, highly proficient students will have the opportunity to participate in data science projects proposed from across campus, particularly through the various institutes and centers that Penn offers.  Students should have taken at least one elective course in the target application domain before embarking on the project.  The student will be mentored jointly by the Program Director and by an advisor in the area of the project.