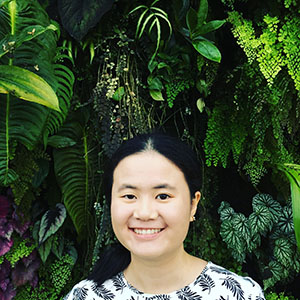 "Take advantage of all the resources you have and don't be afraid to reach out to peers, professors, etc. to gain their insights about whatever topics you're passionate about."
---
Advising Hours:
Degree(s) M.S.E. in Data Science, University of Pennsylvania

Hometown: San Jose, CA

What field of Data Science are you interested in?
Analytics, Statistics, Social Sciences + Social Good
What drew you to study Data Science at Penn?
I chose Penn for the DATS program's flexible and interdisciplinary curriculum. We can focus on any bucket of data science we want. Some of us prefer going into machine learning and AI while others can focus more on analytics, statistics, etc. or even get a mix of both if we desire it. I also really liked the ability for us to choose a domain to focus on such as economics, biomedicine, marketing, etc.
What are some classes that you have particularly enjoyed and why?
I really enjoyed MKTG/STAT 776: Applied Probability Models in Marketing since Professor Fader is extremely passionate about what he's teaching and his enthusiasm makes the class much more enjoyable. The class is also very different from what I've learned in the past since this class focuses more on how to use a small amount of data to make important business decisions rather than the usual idea of using big data.
What internships have you had? If you know your post graduation plans, please include here.
Prior to joining the DATS program, I was a data science intern on Facebook's civic integrity team. I also had several non-data science related internships in a consulting company as well as a tech startup. This summer I'm a data science intern on Linkedin's economic graph team.
What advice do you have for new students?
You only have 2 years here (or even less if you're a transfer/submat!) and it'll go by really fast. Take advantage of all the resources you have and don't be afraid to reach out to peers, professors, etc. to gain their insights about whatever topics you're passionate about.